FLIGHT SCHOOL
PRIVATE PILOT GROUND SCHOOL
INSTRUMENT PILOT GROUND SCHOOL
FLIGHT PROGRAMS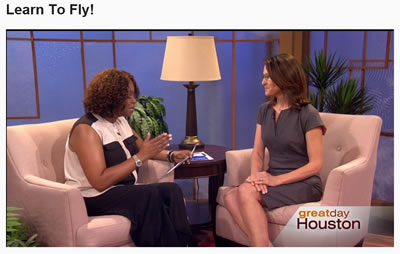 West Houston Airport has been actively promoting flight training since 1962. The location of the airport combined with its enthusiastic administration and customers is what makes learning to fly at West Houston Airport an exhilarating experience.
The professional staff of Certified Flight Instructors are highly qualified and of the highest caliber, each maintaining the standards of excellence of their profession. They are eager to assist the novice or the experienced aviator with basic and advanced training.
It is the goal of our organization to provide you with an enriching, rewarding experience in the exciting realm of flight. For further information, ask to see our FREE "LEARN TO FLY" video, available for on-premises viewing and ask about our "Discovery Flight." (Passenger carrying during Discovery Flight is not authorized.)
To request additional information on any of the Flight Programs, as well as be included in our e-mailings and receive our monthly newsletter, email info@westhoustonairport.com.
LOCATION OF AIRPORT
West Houston Airport is conveniently located on the west side of Houston. There are several good "practice areas" nearby which are appropriate for primary student training. The Airport also has instrument approaches which can be used for instrument training. Because the airport is located outside of Class B airspace and is non-towered, there is less time spent on the ground and more time spent flight training, saving you money.
PILOT SUPPLIES AND GIFTS
The Flight Center maintains a large selection of pilot supplies. It includes FAA Charts (Sectional, Terminal Area, and Instrument Procedure), books, exam study guides, plotters, computers, caps and other gift items. Other items can be special ordered. Gift certificates are available.
EMPHASIS ON QUALITY
At West Houston Airport, we are proud of the quality of our airplanes, facilities, personnel, and especially our safety record and the quality of our Graduates and our Instructors who excel in their teaching skills.
Many of our Graduates are flying for airlines in the U.S.A. and other countries. Almost 90% of our former Flight Instructors are now flying for airlines. Our philosophy has always been to not pressure any potential candidates or require advance payment. The school is pay as you go and fly when you want.
GROUND SCHOOL CLASSES
Private Pilot and Instrument Pilot ground school classes are offered. Both classes reference Jeppsen text books (available at West Houston) and follow a structured course outline lasting twelve weeks for private pilots and eight weeks for the instrument course. While completion of the entire course is recommended, each of the topics are available on a class-by-class basis for specific subject review.
These classes are held once a week, from 7:00 pm to 10:00 pm in the ground school classroom located in the main terminal. The Private Pilot course is held on Mondays and the Instrument Course is held on Tuesdays.
Check with Flight School or Customer Service personnel for class schedules.
Cost - $15.00 per hour; $45.00 per class
Current Private Pilot Ground School
Instrument Pilot Ground School
Individual, one-on-one ground instruction is available with any of our instructors, and may be scheduled by contacting Flight School or Customer Service Personnel.
Cost - $75.00 per hour
FLIGHT INSTRUCTORS
FAA certificated flight instructors are available for instruction, seven days a week, for normal scheduling from 8:00 AM until dark. Earlier and later flights may be scheduled on a flight-by-flight basis with prior instructor approval.
West Houston operated airplanes

Customer owned airplanes

Individual Ground Instruction

Class Ground School
Discovery Flight

$85 per hour
$85 per hour
$85 per hour
$15 per hour
$169

AIRCRAFT
PILOT SERVICES
In addition to the aircraft listed above, Flight Instructor - Pilots are rated for a variety of airplanes and are available for instruction and services in customer owned airplanes.
Instructor Rates

Non-Owned Instructor Rates

Daily Rates

Holding

$85 per hour

$85 per hour

$600 per day + room/board

$85 per hour
CANCELLATION POLICY
No Show: Charged $100 per hours scheduled and not canceled.
Less than two (2) hours notice: $50 Flat Charge